Chef - Chris Maher
If I had to play as well as this guy cooks I'd have to practice a lot more."
– Jazz Great, Terence Blanchard
As a child in Alexandria, Egypt, Christopher's mother and grandmother instilled in him their love of food and talent for cooking. He knew at an early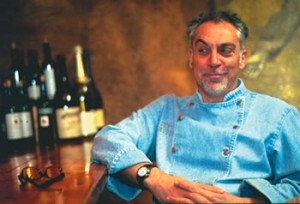 age that he shared the same passion for the culinary arts. Even today, their teaching and Middle Eastern roots tend to surface in some of his finest creations.
After two years of medical school, Christopher realized this was not his calling, so he went to acting school in New York City, following his long-time dream of becoming an actor. While studying at the prestigious Neighborhood Playhouse School of Theater, Maher also began his formal career in the culinary arts waiting tables and in the kitchen of Tavern on the Green under Drew Nieporent's direction. He quickly realized that in addition to his acting career, he had a desire to create exquisite food and make people happy with his culinary talents.
His acting career progressed and Maher moved to Los Angeles, California. While he kept busy as a working actor, he missed the culinary arts and turned once again in this direction.
Chef Chris Maher is a nationally acclaimed, James Beard recognized chef and his most recent restaurant, which he sold seven years ago, was awarded the AAA Four Diamond award of excellence 7 consecutive rows, prior to it's sale.  In addition, he has owned and operated restaurants in Los Angeles for many years before he moved full time to Taos 12 years ago.
Chris has been teaching cooking classes for many, many years first in Los Angeles and now in Taos.  He has cooked for the Dalai Lama and President Clinton, among others. He also travels and teaches in private homes, most recently in San Luis Obispo and Beverly Hills, Dallas and Santa Fe last month.  Each year we have a TEXAS culinary tour where Chris teaches in individuals' homes as well as corporate team building.    In addition, Chris consults for restaurants and culinary projects and speaking engagements.
 Chef / Actor
James Beard recognized
AAA Four Diamond Award 6 consecutive years (2000-2006)
Appeared in 16 feature films, as well as several television episodes
Has cooked for HH Tenzin Gyatso, The Dalai Lama, and President Bill Clinton
Dear Chef Maher,

The dinner you prepared for the Dali/Opera group Sunday night was the perfect ending to our marvelous four-day excursion to Santa Fe and Taos.  If I had to chose among the courses which one was my favorite (and luckily I don't since I was able to taste them all), I'd say the red lentil soup came in second as it was like no other lentil soup I've ever had; its flavor and consistency were happily surprising.  However, my highest accolades go to the seared ahi tuna.  This is one of my favorite choices when I go out to eat and I've eaten it in many restaurants.  Yours is by far the best I've ever had.  Not only was it off-the-boat fresh (and it wasn't even Thursday), but the sauce in which it was served complemented it in the most delicious way. The evening was memorable.  Thank you so very much.

Muriel Desloovere