Apricot Glazed Stuffed Game Hens
4 hens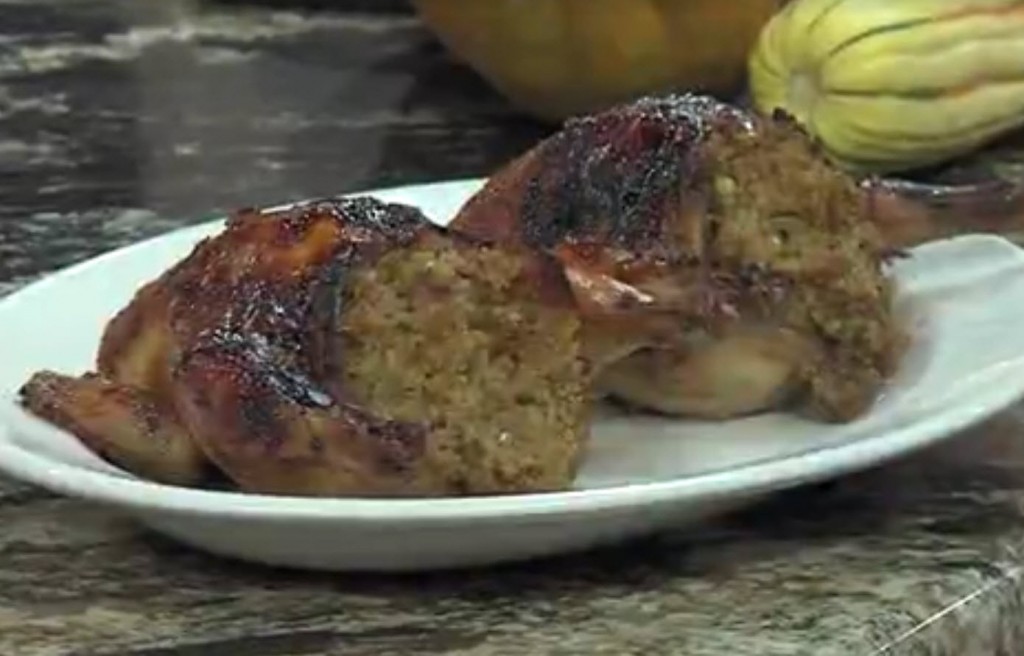 2 medium to large yellow onions
4 cups medium grain bulgar, soaked in warm water for 20 minutes
Olive oil
1 cup pine nuts (or other nut of your preference)
Garlic
Black pepper
Salt
Cayenne
Cumin
Dried Apricots, 1/3 lb. approx.
1 lb. Apricot preserves
¼ # Butter
Make one recipe of basic rice.  It can be white, brown, a combination of the two and/or include wild rice.
Sauté the onion and garlic with olive oil.  Next add plenty of black pepper, salt, cayenne and cumin.  Make sure there is sufficient moisture left when you are done.  Add the rice to this and mix thoroughly.  Once the onion is cooled, mix in small pieces of apricot.
Place the apricot preserves with 3 T. of butter in a small pot and melt slowly. This will be used as a glaze during the cooking of the birds.
Wash and dry the birds.  Salt, pepper and cumin the inside and outside of the cavity, then stuff the birds' abdominal cavity with the above mixture.  Glaze the top of each hen with clarified butter and place in a 400 degree oven.
After 15 minutes, remove from oven and glaze with the apricot/butter mixture.  Place hens back in the oven and continue to glaze every 10 minutes or so.  Total baking time should be about an hour to an hour 15 minutes. Hens should have nice brown spots on the outside.
Remove from oven and let them rest for a few minutes.  Split the hens in two, pull some of the stuffing out onto each plate and serve, garnished with chopped parsley.
Food & Wine notes: