SEPTEMBER 15th – 21st 2019
with James Beard recognized Chef, Chris & Valerie Maher
We welcome our students, friends and guests to join us for a week-long (6 nights) food and cultural immersion in the rolling hills of Umbria, Italy. We have reserved a private, former monastery that is now a historic hilltop villa, minutes from the medieval town of Todi, Italy.
We can accommodate a maximum of 12 people for the week, which will include multiple days of cooking (with what is available locally and seasonally), food and cultural related outings and excursions, with spare time for relaxing, enjoying the Italian countryside and exploring the area on your own if you wish. 
About Umbria: Umbria is known for its landscapes, traditions, history, culinary delights, artistic legacy, and influence on culture.  Umbria is also known as the wine region of Italy and boasts exquisite olive oils, one of which we will visit and tour.  Umbria is also known for being a hub of knowledge, being the home of one of the oldest universities in the world.  Founded in 1308, the University of Perugia is a small university with impressive alumni, including multiple popes…
There are many outdoor spaces to relax and to dine and the compound also includes a pool, surrounded by olive trees. The grounds and vineyards perfect for walking.
Your home this week will be a beautifully restored stone monastery located in the hills of Umbria outside of the town of Todi, which can be seen in the distance.
The rooms are beautifully restored and have private baths. Some rooms can be shared by two couples or families, if desired. The home is filled with antiques and family furniture and beautiful artwork.
The estate boasts a renovated 13th century monastery and has a gorgeous kitchen facility where we will be conducting our cooking classes. Umbria is nestled next to Tuscany in central Italy. The region's aromatic black truffles scent many dishes, from delicate polentas to savory cheese breads. The local produce, meats, olive oil, wine and pastries are extraordinary in this region and will be incorporated into our daily meals.
Each morning, 2 students along with the chef will prepare breakfast for the group. Free time after this for the group prior to meeting up again for the day's activities and preparations / learning of the recipes.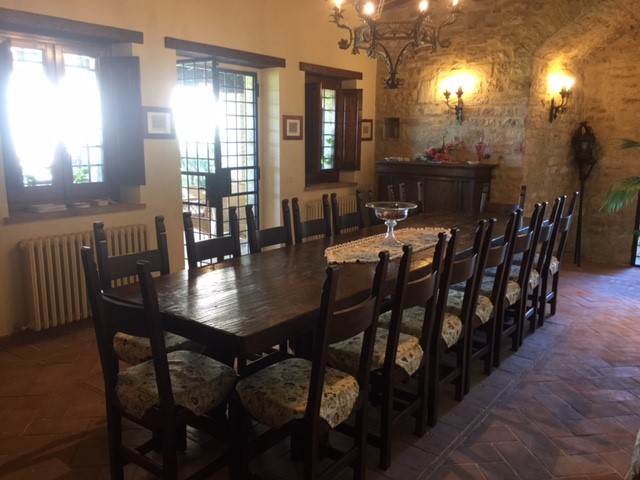 On cooking days, we will enjoy a lighter, al fresco lunch and have an evening meal of the recipes we have created together on the evenings of the class days.
Group excursions: one day, we will visit Deruta, Italy for their farmer's market and continue on to one of the finest creators of Italian Deruta pottery. In 1959, they founded a small workshop that is today one of the most important factories of Deruta. The artisans create prestigious objects for house and kitchen. Both shapes and patterns are inspired by traditional motifs but their colors and designs are tied to fashion and contemporary art. This will be followed by a beautiful, delicious lunch at an authentic, local restaurant. Another day we will visit a nearby historic, medieval town (Gubbio or Orvieto) with a local guide. At the end of our excursion day, we will sit to dinner prepared by Chef, Chris Maher.
Our last evening together, we will enjoy discussing what we have learned, fallen in love with and what we will take home from our experiences. Let's enjoy our last taste of Greece together with new friends and recipes!
We also encourage our participants to let us know if there are any particular Italian recipes they are interested in learning in advance so that Chris may incorporate with his lineup.
Comments from past trips:
"Fantastic. The trip of a lifetime with my daughter. The location was wonderful and even better than I had imagined. The week was well planned with diverse activities including sightseeing, wine-tasting, experiencing a pottery factory, vineyards, olive groves with olive oil tasting and of course wonderful food. Chris is a terrific chef and teacher and Valerie a great organizer. Loved ALL of it and making new friends". – Y. Farrell, Denver, Colorado from Umbria 2017 trip

This trip offered just the right blend of hands-on kitchen activity and excursions out in the gorgeous Umbrian countryside.The days were well-planned yet there was room for spontaneity.The accommodations, a charmingly restored historic property surrounded by beautiful grounds and vineyards provided a feeling of relaxation and renewal. We ate wonderfully, authentically, shopped in local markets and just being in the same kitchen with Chef Chris will make you a better cook. – Yvette W., Sunshine, Louisiana
Inclusions:
Seven Days / Six Nights Accommodations
All Meals During Your week
Welcome Dinner, prepared by Chef Chris Maher
Medieval Village Tour of Orvieto (or Gubbio, Assisi, etc.) with local English speaking tour guide
Guided Tours and tastings of local producers in the area: wine producers, olive oil producer
Tour and visit to Deruta ceramicist manufacturer and opportunity to purchase their crafts
Hands-on traditional Umbrian & regional Italian Cooking Classes with James Beard recognized Chef, Chris Maher
Group lunch outing at a local, authentic restaurant
Local Farmers' Markets Tour for purchasing some of our ingredients and more…
New Mexico's Premier Cooking School
Getting into Italy / arrival to our location – you can fly into several different areas, also may depend on pricing from where you are flying from and if you plan to travel on your own before or following our week together (check Milan, Rome, Florence, Venice, etc.) You will want to have a car to drive to our location and for use during and after.
Arrival to our location – After settling into your room, we will meet for a wine tasting and a briefing of what we have in store for the week, followed by a welcome dinner, prepared by Chef, Chris Maher.
Cost per person for this culinary week in Umbria, Italy:
$3,995 per person, all-inclusive – based on double occupancy.
To ensure your spot:
$1,000 due upon acceptance of contract (non-refundable), balance due minimum 30 days in advance of event (by August 15th 2019). Payable to: Cooking Studio Taos PO Box 750 Arroyo Seco, NM 87514. Credit cards incur an additional 3.5% transaction fee.
__________________________________
Signature Date
Cooking Studio Taos
P.O. Box 750
Arroyo Seco, New Mexico 87514
575-776-2665 or 575-613-3321
cookingstudiotaos@mac.com www.cookingstudiotaos.com