SEPTEMBER 16th – 22nd 2018
with James Beard recognized Chef, Chris & Valerie Maher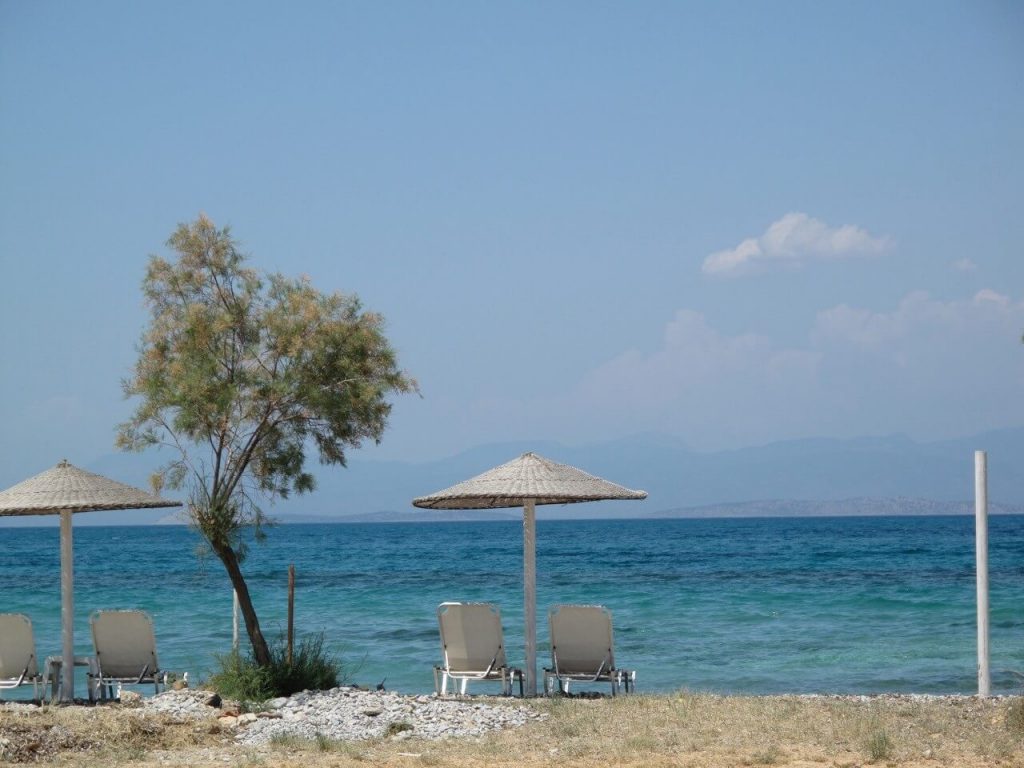 We welcome our students, friends and guests to join us for a week long (6 nights) food and cultural immersion on Aegina, Greece. We have reserved a private, historic estate, minutes from the port and town.
We can accommodate a maximum of 12 people for the week, which will include multiple days of cooking (with what is available locally and seasonally) and several group outings, with spare time for relaxing, enjoying the warm, Mediterranean beaches and coves and exploring the area on your own if you wish.
We will be staying together in an historical, private compound that has been completely updated. The original house was built in 1825 and has an interesting historical background with many Greek tycoons, prime ministers and dignitaries staying here throughout the years. The guest room houses all share central gardens, a pool and the views from the homes are wonderful in all directions. The temperature will be just perfect!
Walk into town is a mere five minutes, with many things to do and see and great shops as well.
Each morning, two students along with the chef will prepare breakfast for the group. After breakfast, enjoy some free time prior to meeting up again for the day's activities and preparations of the recipes. On cooking days, we will enjoy a lighter, al fresco lunch and have an evening meal of the recipes we have created together.
Aegina Fish Market Browse the stalls at the Aegina fish market for the freshest catch from the local fisherman and choose what will be prepared for that afternoons' cooking class. Take in the locals having their morning café at the outdoor seating cafés lined all along the main street at the port.
Aegina boasts some of the world's most incredible beaches and water to swim or wade in – this time of the year the temperature will be just perfect! Aegina is known as the pistachio capital of Europe for its unique taste and quality and you will soon know why.
There are many pistachios trees at the compound where we are staying and we are going to be there at the harvest time! At the pistachio plantation tour, we will have the opportunity to learn about the steps of pistachio nut cultivation and their preparation for consumption. Taste the product and buy some to take home to your friends and family. We will definitely be making pistachio baklava during the week! Visit to Neighboring Island Our excursion to a neighboring island will involve traveling together by boat to explore, shop and do some foodie oriented activities. Some may take advantage of the leisurely day by heading to the beach to sit under an umbrella and nap or read, while others may choose to take a hike for some other views of the area and exploration. We will meet back up and head to Aegina and sit down to dinner prepared by Chef Chris Maher.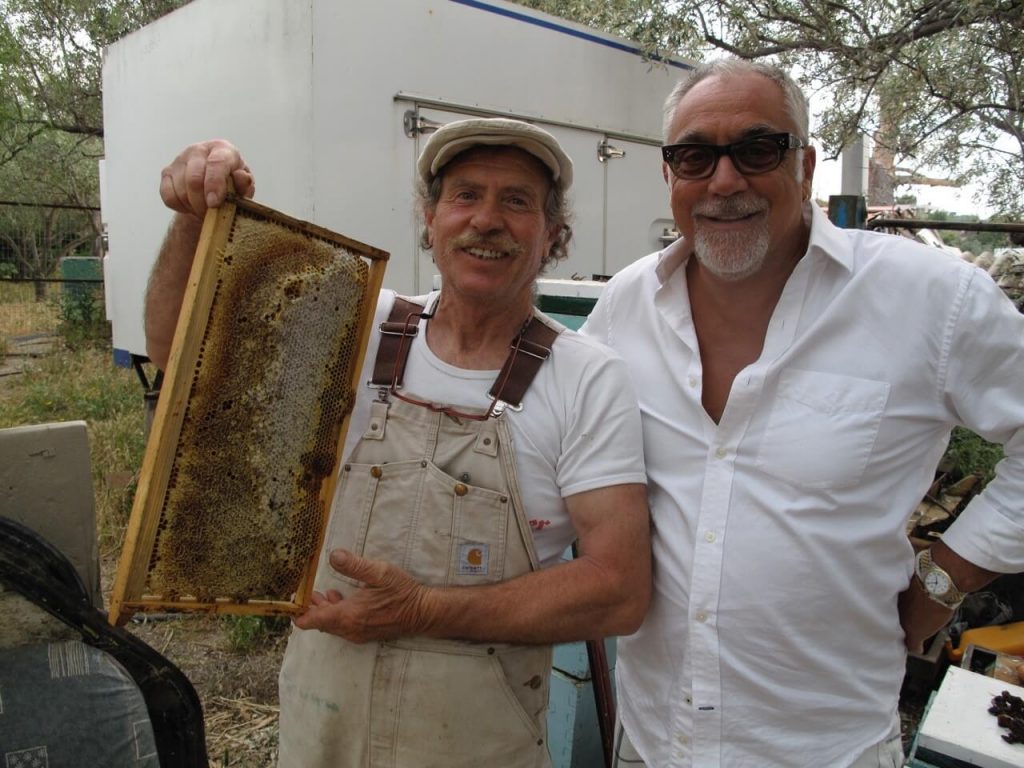 Our last evening together, we will enjoy discussing what we have learned, fallen in love with and what we will take home from our experiences. Let's enjoy our last taste of Greece together with new friends and recipes!
Chris with a local beekeeper on the island who we will get to visit and tour the farm with. His honey is incredible
and he has been visited by some of the top chefs of Europe over the years for his quality and taste. Jamie Oliver visited him while we were there years ago.
We will tour the Temple of Aphaia – dedicated to goddess Athena. This is one of the ancient architectural wonders of ancient Greece. It was built in 480 BC and 25 of the original 32 Doric columns still stand due to the skill of the restorers.
Fantastic. The trip of a lifetime with my daughter. The location was wonderful and even better than I had imagined. The week was well planned with diverse activities including sightseeing, wine-tasting, experiencing a pottery factory, vineyards, olive groves with olive oil tasting and of course wonderful food. Chris is a terrific chef and teacher and Valerie a great organizer. Loved ALL of it and making new friends. – Yvonne F, Denver, Colorado from Umbria 2017 trip
We also encourage our participants to let us know if there are any particular Greek, Turkish or Lebanese recipes they are interested in learning in advance so that Chris may incorporate with his lineup.
Inclusions:
Six Nights Accommodations
All Meals During Your week
Welcome Dinner
Guided Greek Ruins Tour – Temple of Aphai and nearby monastery
Tours of local producers on the island: honey producer, dairy producer, pistachio plantation and ceramicist
Hands-on traditional Greek and eastern Mediterranean Cooking Classes with James Beard recognized Chef, Chris Maher
Visit to neighboring island
Local Fish and Farmers' Markets Tour
About Aegina This island in close proximity to Athens is a favorite getaway to Athenians and other Greek nationals as a spot to own a second home. The culinary experience here is all about the fresh, local seafood, meats, cheeses and vegetables, so tasty from the sun and exquisite salty water you will be amazed. Walking around you will pass almonds, fig, olive and fruit trees. Greek yogurt is something you have heard of but experiencing it on the island is an experience unto itself. Ouzo is a local treat to be tasted over a late, leisurely lunch, followed by a dip in the Aegean or one of the compound's pools.
Getting into Greece / arrival to our location – closest and easiest is to fly into Athens. You should definitely plan to visit Athens before or after your week on Aegina with us and perhaps any other neighboring areas or islands while you are there. More information and assistance will be provided to guests confirmed for the program