Culinary & Cultural Immersion Week in Oaxaca, Mexico
March 8th – 14th, 2020
with James Beard recognized Chef, Chris & Valerie Maher
We welcome our students, friends and guests to join us for a week-long (7 days / 6 nights) food, wine and cultural immersion in the heart of culinary Mexico, Oaxaca. Our location is close to Oaxaca city, a beautiful location, full of things to see and explore with so much history and culture.
We can accommodate a maximum of 12 people for the week, which will include multiple days of cooking (with what is available locally and seasonally) and several group outings, with spare time for relaxing, enjoying the beautiful hacienda and exploring the area on your own, if you wish.
All our guests will be staying together in an authentic Mexican hacienda, close to the town of Oaxaca city.
Day trips will include market visits and shopping for ingredients.
With Chris leading several cooking classes throughout the week, we will also have a cooking class on location to learn other authentic recipes together.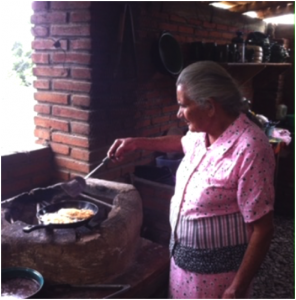 Oaxaca is famous for so many different foods and we will try and learn so many wonderful things together – some of the most notable include: chocolate, Oaxaca cheese, mezcal and grasshoppers (chapulines) with dishes such as tlayudas, Oaxacan style tamales and seven notable varieties of mole sauce – to name a few! 
Excursions
Excursions await us for interesting things to see and do in Oaxaca – exploring and shopping in the many food and artisan markets is one of the highlights to experience in this special location of Mexico.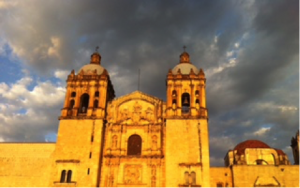 We also will be visiting local coffee producers, textile producers and weavers, pottery creators, metal fillagree work – and so many other artisanal crafts to see.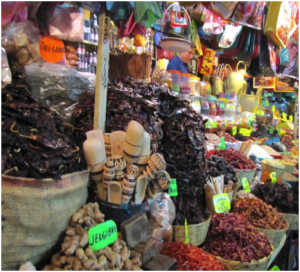 A professional tour guide will lead us on a tour to learn more about the history and culture of the area.
There are many other attractions for those interested, and our exact plans for these will be determined once we confirm our guests and their interests (ruins, shopping, walking, nature sites (arboretum, etc.)
More About Oaxaca
 There are too many things to even list here, but to briefly touch on what Oaxaca is known for most notably in the culinary world: Oaxaca is one of Mexico's major gastronomic, historical, and gastro-historical centers whose cuisine is known internationally. Like the rest of Mexican cuisine, Oaxacan food is based on staples such as corn, beans and chile peppers, coffee and chocolate and there is a great variety of other ingredients and food preparations due to the influence of the state's varied geography and indigenous cultures.
Inclusions:
Seven Days, Six Nights Accommodations

Welcome Dinner on arrival day cooked by Chef, Chris

Hands-on traditional Mexican Cooking Classes with James Beard recognized Chef, Chris Maher

Additional cooking class in Oaxaca (local chef) to learn things as the locals make traditionally

All Meals During Your week, including a lunch and a traditional dinner at a local restaurant, planned in advance

Amazing local cultural visits – churches, museums, galleries

Guided Tour in Oaxaca City

Visits to local producers in the area – coffee producers, weavers, with buying opportunities if you choose

Local produce market excursions for discovery and purchase of ingredients and spices for our cooking classes
We also encourage our participants to let us know if there are any particular Mexican recipes they are interested in learning in advance, so that Chris may incorporate with his lineup.
Our last evening together, we will enjoy discussing what we have learned, fallen in love with and what we will take home from our experiences. Let's enjoy our last taste of Oaxaca together with new friends and recipes!
You might plan to visit other areas of Mexico before or after your week with us while you are there. More information and assistance will be provided to guests confirmed for the program. We also are happy to suggest a couple options for a travel agent if anyone is interested.
Getting into Oaxaca / arrival to our location – closest and easiest is to fly into Oaxaca airport – I have found some flights through Dallas that are very reasonably priced.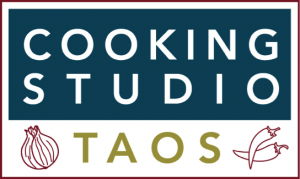 New Mexico's Premier Cooking School
Cost per person for this culinary week in Oaxaca, Mexico:
$3,195 per person, all-inclusive – based on double occupancy. Does not include airfare.
 To ensure your spot:
$1,000 due upon acceptance of contract (non-refundable) per guest, balance due minimum 30 days in advance of event (by February 8th, 2020). Payable to: Cooking Studio Taos PO Box 750 Arroyo Seco, NM 87514. Credit cards incur an additional 3.5% transaction fee. Venmo or Paypal payments are also an option.
March 8-14th, 2020
____________________________________________________________________________________________
Signature                                                                                    Date
Cooking Studio Taos
P.O. Box 750
Arroyo Seco, New Mexico 87514
575-776-2665 or 575-613-3321 Valerie cell/Text
cookingstudiotaos@mac.com                www.cookingstudiotaos.com