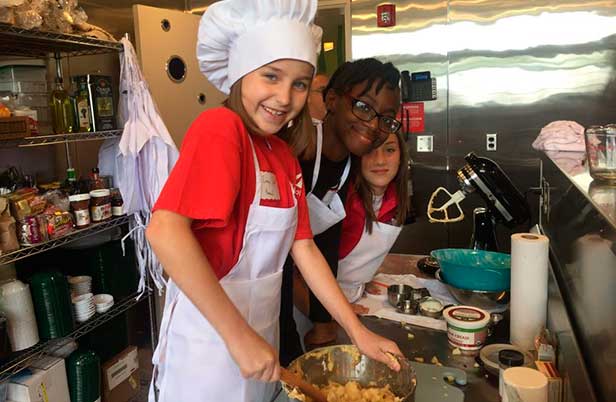 epicurean adventures
What to Expect in A Cooking Class
At Cooking Studio Taos, there is no such thing as "too many cooks in the kitchen." The studio, created by Chris and Valerie Maher, offers hands-on cooking classes for privates as small as 1-2 individuals or up to groups of 35 or more people. Located in El Salto, the studio is halfway between downtown Taos and the Taos Ski Valley.
"The views and setting are magical," said Valerie Maher. "We have two kitchens that we use for our classes and groups."
Valerie and her husband Chris started Cooking Studio Taos in 2004, but Chris has been teaching cooking for more than 30 years. Before moving to Taos, he simultaneously operated three restaurants and a catering company in Los Angles. He also owned a fine-dining restaurant in Taos while teaching part-time. Chef Chris is a nationally acclaimed, James Beard-recognized chef, as well as an actor. Chris was in TV shows and movies including Enough, Mannequin and The Men Who Stare at Goats.
Cooking classes usually last five hours. Before any cooking takes place, groups meet with Chef Chris for an overview and to review the recipes together.
"All levels of cooks from beginners to professionals will learn something while here, from history of the cuisine, knife skills, tricks and techniques and how to use spices for great flavors," Valerie Maher said.
Chef Chris teaches a wide variety of cuisines including New Mexican, Cuban, Italian, French, Moroccan, Turkish, Greek, Egyptian, German, American regional and Thai.
All group experiences end with a seated meal of everything they prepared together.
"Bar none, this will be the best experience they have while visiting this part of the world," Valerie Maher said. "Not only will they have an experience of    learning something new and different, but all in a beautiful location, fully immersed in an interactive environment."
Cooking Studio Taos also offers team-building cooking classes for corporate groups and organizations. Groups are broken up into small teams,  participate in motivational talks with Chef Chris and prepare a five-course gourmet meal.
epicurean adventures
Catered Events
We host small, distinctive events in a fine dining manner, for those with discerning tastes. Impeccably prepared organic ingredients, local meats and dairy.

pull up a chair
Our Philosophy
Our philosophy is simple: we treat cooking as art and we treat baking as science. In cooking, as in painting, there is no such thing as exactness. As such, we teach students to improvise with ingredients to create tasty dishes. We treat recipes not as static statements, but as guides that evolve and change. We are inspired by tasting different cuisines through our travels, which brings us to the realization that food unites us all! Come play with us.