join us...
Oaxaca Culinary Adventure
with James Beard recognized Chef, Chris Maher
Culinary & Cultural Immersion Week in Oaxaca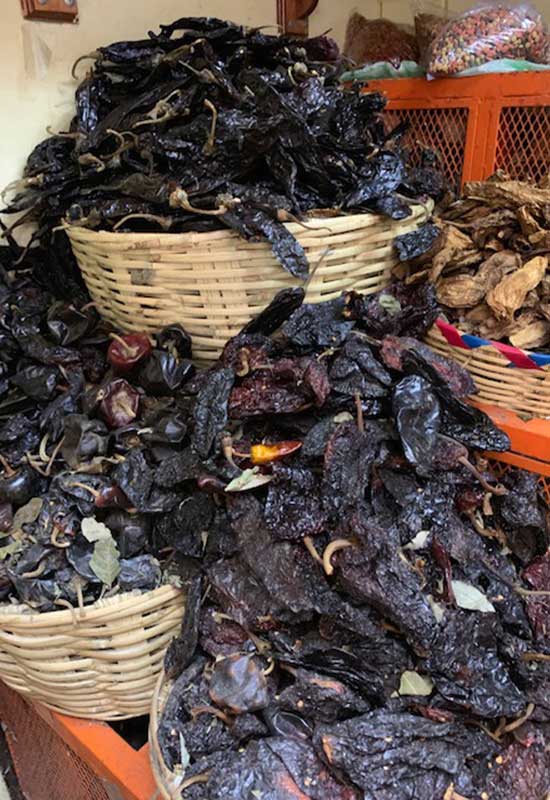 We welcome our students, friends and guests to join us for a week-long (7 days / 6 nights) food, wine and cultural immersion in the heart of culinary Mexico, Oaxaca. Our location is close to Oaxaca city, a beautiful location, full of things to see and explore with so much history and culture.
All our guests will be staying together in an authentic Mexican hacienda, close to the town of Oaxaca city. Day trips will include market visits and shopping for ingredients. With Chris leading several cooking classes throughout the week, we will also have a cooking class on location to learn other authentic recipes together.
Oaxaca is famous for so many different foods and we will try and learn so many wonderful things together – some of the most notable include: chocolate, Oaxaca cheese, mezcal and grasshoppers (chapulines) with dishes such as tlayudas, Oaxacan style tamales and seven notable varieties of mole sauce – to name a few!
Our last evening together, we will enjoy discussing what we have learned, fallen in love with and what we will take home from our experiences. Let's enjoy our last taste of Oaxaca together with new friends and recipes!

Guest Support​
We do everything we can to make your travels as fun and rewarding as possible!

Local Immersion
When we introduce you to a country and it's foods we take pride in establishing a link for you to the people and the soul of the place.
Family Friendly
We are a family that cooks, travels, and explores life together. Our invitation to you is to join us and find inspiration and delight whether you are traveling solo, with a friend, loved one, or a group. 
Get Culinary Travel Updates
"Travel changes you. As you move through this life and this world you change things slightly, you leave marks behind, however small. And in return, life—and travel—leaves marks on you." – Anthony Bourdain